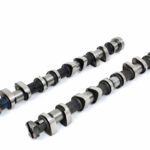 Camshaft – Fast Road (Ford)
£555.68 Excl. VAT
Profile: Bp270.
Application: Fast Road.
Unit Type: Blank.
If using Piper one piece followers – FOLST170M – You will need to purchase SHIM83, which will then need final grinding.
Download:-
Right click the link and select 'Save link as' to download.
Click the link to open in a new tab.
Additional information
Description
Additional information
| | |
| --- | --- |
| Weight | 5 kg |
| Application | Fast Road |
| Power Band | 1800-7000 |
| Power Increase | 12BHP |
| Duration Inlet | 260° |
| Duration Exhaust | 248° |
| Valve Inlet Lift | .372" 9.45mm |
| Valve Exhaust Lift | .345" 8.76mm |
| Timing Inlet | 20 – 60 |
| Timing Exhaust | 54 – 14 |
| Full Inlet Lift | 110° |
| Full Exhaust Lift | 110° |
| TDC Inlet Lift | .045" 1.14mm |
| TDC Exhaust Lift | .024" 0.61mm |
| Valve Inlet Clearance | .010" .25mm |
| Valve Exhaust Clearance | .012" .30mm |
| Manufacturer | Ford |
| Product Type | Camshaft |