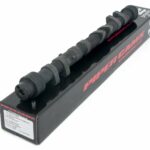 Camshaft – Fast Road (Rover)
£291.73 Excl. VAT
VVC Inlet Conversion Camshaft developed by Piper. To suit aftermarket engine management only. All Rover K Series Hydraulic & Mechanical profiles are available, please state your profile requirements in the order notes at checkout.
Allows VVC head to be used on K Series engines.
Requires Piper PLATES and PULDK.
Note: If used to replace the VVC Inlet camshaft on VVC engines, the VVC system cannot be used.
See Description below for more details on this camshaft.
Download:-
Fitting Data. (See K Series Data.)
Right click the link and select 'Save link as' to download.
Click the link to open in a new tab.
Additional information
Description
Additional information
| | |
| --- | --- |
| Weight | 3 kg |
| Manufacturer | Rover |
| Product Type | Camshaft |
| Profile | BP255H, BP270H, BP285H, BP285M, 633H, BP300H, BP300M, BP320M, 1227M, 1444M |
Description
As the VVC cylinder head utilises substantially larger valves than the standard K Series head, it is more economical to use this casting rather than have larger valves fitted to a standard head. For this reason we developed a kit to convert the VVC mechanism back to a conventional two camshaft configuration. Originally only available on steel billet, this camshaft became so popular that we had castings made to reduce both lead times and costings. A 1600 engine fitted with this conversion is capable of producing in excess of 210bhp and 1800 engines are nudging 250bhp. A standard Rover K series camshaft ground to the same profile is required to use as the exhaust camshaft. Piper Rover PLATES and PULDK are also required.